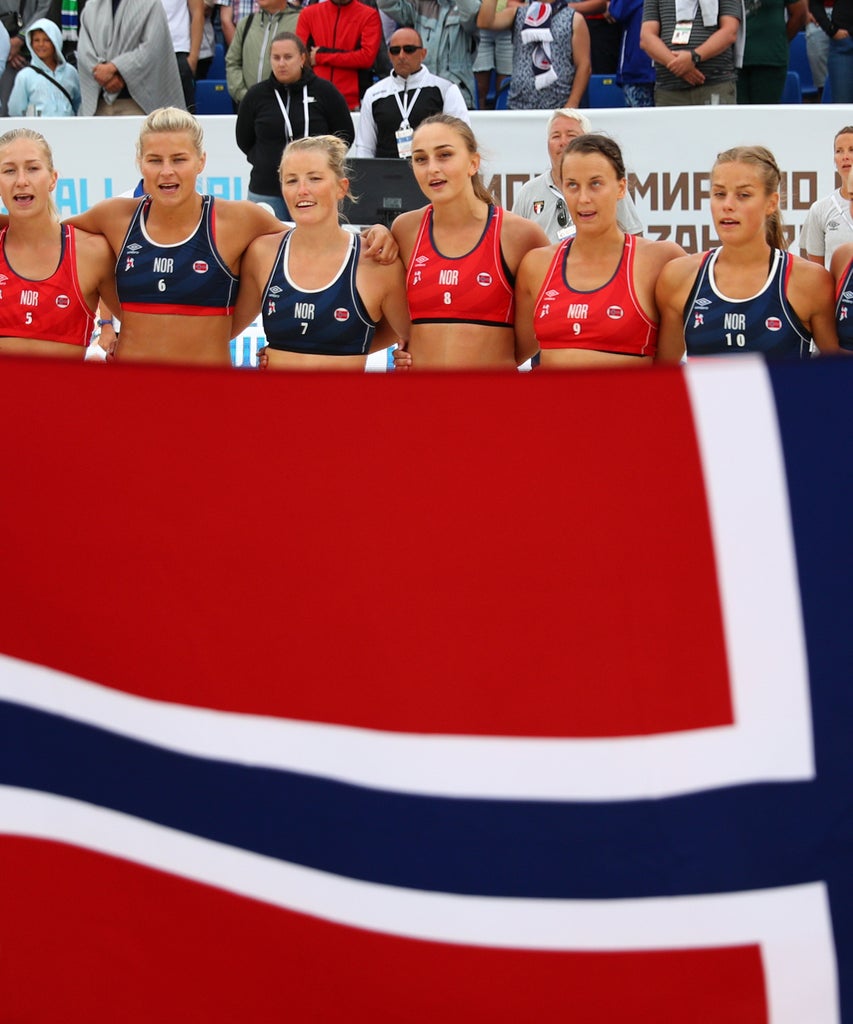 Dress codes for women in sports represent a long fight for equality, and shorts are the latest item to stir controversy. 
Last weekend, Norway's women's beach handball team opted to wear blue shorts to a game, instead of the usual athletic bikini bottoms worn for these events. By Monday, the team was fined by the European Handball Federation because the shorts didn't meet requirements from the organization. According to The New York Times, the Federation requires that female athletes wear bikini bottoms "with a close fit and cut on an upward angle toward the top of the leg." 
The team had planned for some time to ignore the rules this year in order highlight the double standard set for women athletes across the sports world. Players paired their red and blue sports bras with royal blue shorts, and each one of them was fined an estimated $177 (€150) for it.
According to The New York Times, Norway's Handball Federation has complained about the rule through letters to the International Handball Federation since 2006, arguing that the ruling doesn't acknowledge some countries' cultural sensitivities and does not account for the comfort of people who don't want to be as exposed. But the International Handball Federation has yet to accept that shorts might offer a simple solution for female players. Unsurprisingly, the dress code is the opposite for male athletes, who are expected to wear tank tops and long shorts. 
"Women should have the right to have a uniform they think is suitable for performing in their sport," Kare Geir Lio, the head of the Norwegian Handball Federation, told The New York Times. 
Beyond dress codes, many have pointed out that the Olympics and international sports organizations are enforcing discriminatory practices through their uniform policies. Earlier this month, swimming caps for natural hair were ruled out of the Olympics by the International Swimming Federation because "the athletes competing at the international events never used, neither require caps of such size and configuration." Although the body did not allow accommodations for Black swimmers, it's worth noting that the original Speedo cap was first created to prevent white women's hair from flowing around while they swim. There have also been cases of religious discrimination. Back in 2012, the Iranian women's soccer team was disqualified for showing up in headscarves. By 2016, international outrage helped fencer Ibtihaj Muhammad become the first U.S. athlete to compete wearing a headscarf.
Like what you see? How about some more R29 goodness, right here?
The Olympics Ban On Afro Swim Caps Is Outrageous
The Olympics Don't Care About Black Athletes
Telfar Moves Into Sportswear, But Why Now?